The "gilets jaunes" (yellow vests) protests have been rocking several French cities including  the capital city of Paris, Bordeaux, Lyon, and Toulouse for the fourth weekend this weekend over protesters demand for lower fuel prices and higher minimum wage.
Plumes of smoke are seen in several cities as riot police faced off with gilets jaunes (yellow vests) protesters.
Police used tear gas, water cannons, and horses to tame protesters in the streets of Paris.
Officials estimate there are about 125,000 anti-government protesters with about 89,000 security forces deployed throughout the country — 8,000 of those in Paris alone.
Interior Minister Christophe Castaner said that more than 1700 people had been arrested. "The escalation of violence has been stopped," he told a press conference. "It's been contained but remains totally unacceptable".
Parisian health authorities say about 179 had been admitted to the hospital, mostly with minor injuries.
The protest movement began over fuel prices but later the protesters were emboldened to demand better living standards, tax cuts and even some outrightly demanding the resignation of French President Emmanuel Macron, accusing him of being "president for the rich" only.
Government response?
"We now have to rebuild national unity through dialogue," said Prime Minister Edouard Philippe. "The President will make a speech and it'll be his job to propose measures that will sustain that dialogue and which I hope will allow the whole nation to come together to face the challenges we already have and will continue to have in the coming years."
Three months and a half of public consultation will kick start in France next Saturday. The government said it is committed to coming up with "fair and effective measures" for everyone.
Macron was forced to make the first major U-turn in his presidency by abandoning the fuel tax hikes.
But despite that, the gilets jaunes continue to make more demands such as lowering taxes, a higher minimum wage, better retirement benefits, and the president's resignation.
International Attention
Beyond France, the protest reverberated around the world reaching even the US President Donald Trump, who, mocking France and Macron tweeted,
The Paris Agreement isn't working out so well for Paris. Protests and riots all over France. People do not want to pay large sums of money, much to third world countries (that are questionably run), in order to maybe protect the environment. Chanting "We Want Trump!" Love France.

— Donald J. Trump (@realDonaldTrump) December 8, 2018
His tweet generated an unusual 118,000 "Likes" as at yesterday suggesting French people may have appreciated the president's solidarity with them.
But viewing the protest from Africa experience leaves one with awe and wishful thinking at the restraint and civility of French authorities for the human dignity of even violent protesters who disturbed the peace of the country. The police continued to battle protesters. In four weeks, not one casualty recorded.
In Nigeria, "disturbing the peace" is used as an euphemism to justify heavy-handed crackdown on any dissenting person or group by security forces.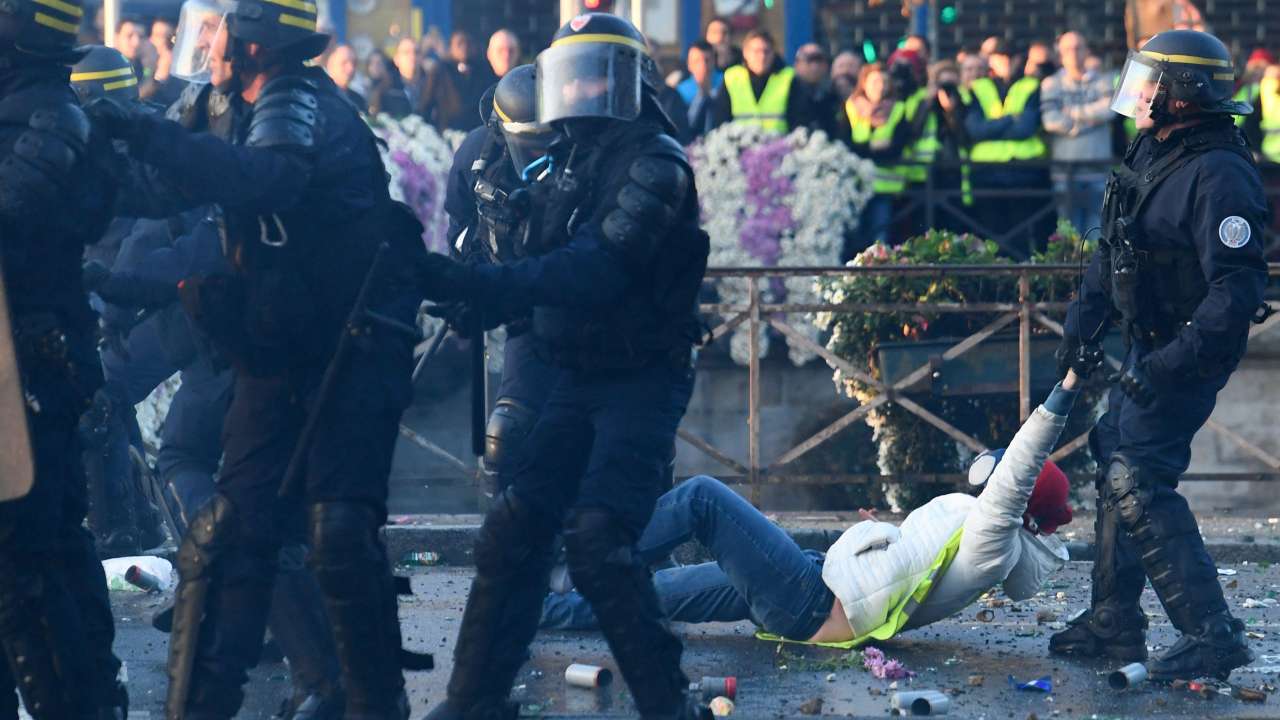 Between 2015-2018, the Indigenous Peoples of Biafra, a banned but non-violent group and the Islamic Movement of Nigeria both protesting government disobedience to court orders to release their incarcerated leaders were routinely met with brute force in a supposed modern democracy. According to Amnesty International, in both cases, Nigerian army killed hundreds of "unarmed peaceful protesters".
These figures are however disputed by the military.
The protests in France is another lesson to Nigerian authorities on how democracy works and that dissent is the hallmark of democracy. As Philipine ex-president Ferdinand Marcos once said,
"The one indisputable reality of dictatorship is that dissent, insult, and malevolent language do not go unpunished if it is allowed at all."
And Robert H Jackson, a U.S. Supreme Court judge wrote too,
"Those who begin coercive elimination of dissent soon find themselves exterminating dissenters. Compulsory unification of opinion achieves only the unanimity of the graveyard."
It take nothing more and not much time to begin to be civil and humane in the exercise of transient power, than the will to do so.