The Norwegian Nobel Committee has awarded the 2018 Nobel Peace Prize to Denis Mukwege and Nadia Murad for their efforts to end the use of sexual violence as a weapon of war and armed conflict.
Below is a tweet announcing the award via an official tweet handle of the Nobel Peace Prize organization based in Norway.
BREAKING NEWS:
The Norwegian Nobel Committee has decided to award the Nobel Peace Prize for 2018 to Denis Mukwege and Nadia Murad for their efforts to end the use of sexual violence as a weapon of war and armed conflict. #NobelPrize #NobelPeacePrize pic.twitter.com/LaICSbQXWM

— The Nobel Prize (@NobelPrize) October 5, 2018
Nigeria's Oby Ezekwesili made the nomination final list but unfortunately did not get the award.
Mukwege: 'The man who mends women'
Mukwege is a world-renowned Congolese surgeon and the founder and medical director of Panzi Hospital in Bukavu, Democratic Republic of the Congo (DRC).
He has been seen as something of savior for victims of sexual violence in his native country, where his surgery has become a refuge and beacon of hope for thousands of women. Through his work, he has earned the moniker "the man who mends women."
At his hospital, women are treated for vaginal fistula — a muscular tear caused by violent rape — and are also given counseling and treatment for the psychological repercussions of their experiences.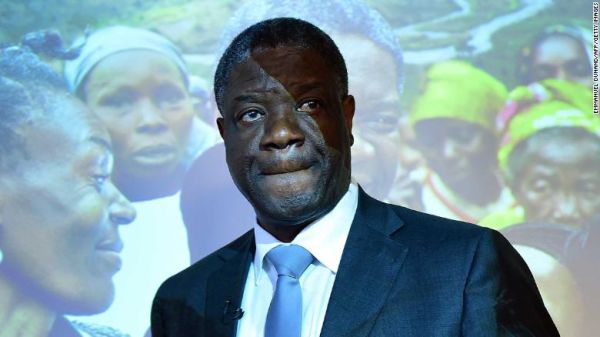 Mukwege said a fistula is one of the worst conditions a woman can experience. "A fistula is dramatic for a woman," he told CNN in a 2009 interview. "Everywhere she goes people don't want to be around her and reject her, so it's a disease that is worse than leprosy."
Speaking at the announcement, Berit Reiss-Andersen, Chair of the Norwegian Nobel Committee paid tribute to both, saying the pair have "put their personal security at risk by courageously combating war crime and seeking justice for victims."
Murad: A former ISIS sex slave turned activist
Nadia Murad is a human rights activist from Iraq. She was one of an estimated 3,000 girls and women from the Yazidi minority who were victims of rape and other abuses by the terror group ISIS when it overran key cities in the country in 2014.
In testimony to the United States Congress in June 2016, Murad detailed how she and thousands of other Yazidi women and girls enslaved and raped by their ISIS captors. She recounted how six of her brothers and her mother were executed by ISIS in a single day.
Murad eventually escaped to Mosul where a Muslim family helped her obtain fake Islamic identification that enabled her to escape ISIS territory.
In 2016, at the age of just 23, she was named the UN's first Goodwill Ambassador for the Dignity of Survivors of Human Trafficking, the Nobel committee said.
Nobel Peace Prize winners didn't know before the announcement
The prestigious honor of a Nobel prize is shrouded in so much secrecy that laureates often only find out in the minutes before their name is publicly announced.
As a result, it's not unusual for the world to know who the winners are before they find out themselves.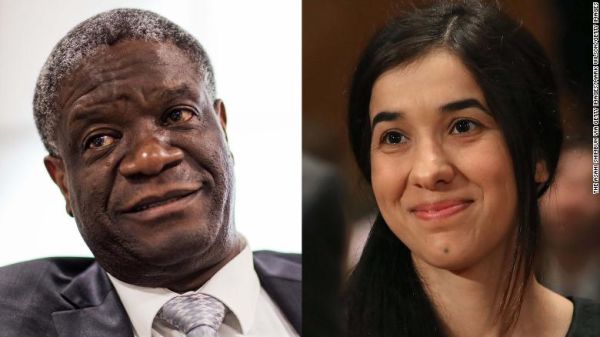 On Friday, committee chair Berit Reiss-Andersen confirmed this to be the case.
"We have tried to contact the winners and we haven't managed to get through on the phone. If they are watching this, my heartfelt congratulations," she said.