About 300 males inmates, mostly young boys, were on Thursday 26 September rescued by the Nigeria Police from a house thought to be an Islamic school in Rigasa, Igabi Local Government Area of Kaduna, northern Nigeria,
Some reports say the number is high as 500 and that some of the children were as young as five years old.
Police say they were tipped off of irregular activities in the "school" and that some of the inmates were chained, starved and even sexually abused.
Kaduna police chief Ali Janga, speaking to newsmen said, "This place is neither a rehab or an Islamic school. Some of the children were brought from neighboring countries, Burkina Faso, Mali, Ghana and the rest from all over the country. They were chained, used, dehumanized."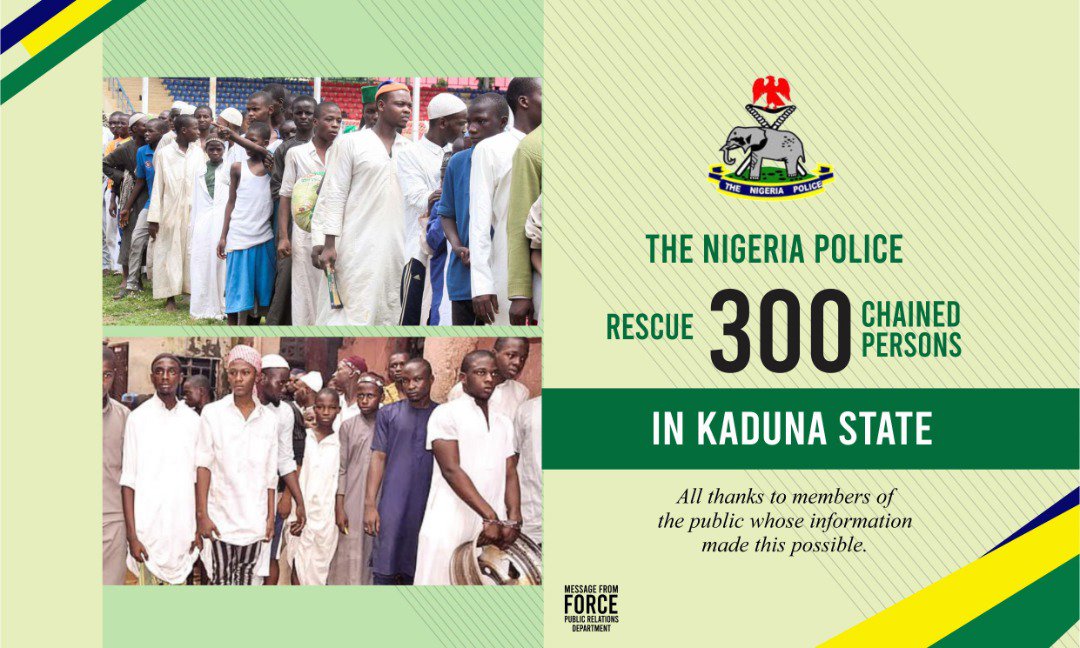 At least 7 teachers including the proprietor, Mallam Ismaila Abubakar are now in police net.
The "school" has been operating for many years, and some inmates are said to have died inside the facility.
The rescued children were taken to a nearby stadium while the authorities try to trace their parents.
Some of the children told police tales of abuse and that their relatives took them to the facility believing it was a Koranic school. President Buhari just back from New York, United National General Assembly, described the place as "a horrific hub", "a house of torture and a place of human slavery", and called it a "criminal offense" for parents who whould not send their children to school.
Buhari's government have been castigated for its poor budgetary allocation to the education sector and for not maintaining the 165 Almajiri schools built across northern Nigeria by his predecessor, Goodluck Jonathan.
But in a startling twist of events on Friday 27 September, several women claiming to the mothers of the rescued children protested the closure of the school and demanded the release of their children from police protective custody immediately.
One parent, Shafa'atu Zakari, she sent her six children to the school to "acquire Quranic knowledge.
"We took the children to the school because we didn't know what to do with them. Presently, four of my children are among the students taken away by the police.
"We demand their release because the founder of the school, Mallam Ismail, is doing everything possible within Islamic teachings to rehabilitate them for us."
But Prof. Chidi Odinkalu, a human rights activist in a tweet replied the mothers, "Since these parents seem to enjoy torture, they should feel free to check themselves into the place."