The founder and Bishop of Living Faith Church or Winners Chapel, David Oyedepo has changed tune and now predicts that "nothing will tamper with the peace of Nigeria".
The Bishop spoke Saturday 8 December, during this year's prophetic gathering of the church known as Shiloh 2018 at the church headquarters, Canaan Land, Ota, Ogun State, Nigeria.
The preacher declared that "The story [of Nigeria] will change for the better in the name of Jesus. Nigeria shall not see bloodshed, the Prince of Peace [a reference Christ] will continue to dominate in Nigeria and in Africa. Nigeria is declared blessed".
Continuing, he prophesized, "Africa shall be delivered. Nigeria shall be delivered. Every occultic powers holding sway on the nations of Africa shall be messed up this year in Jesus name."
"Africa shall be delivered!" – Bishop David Oyedepo at #Shiloh2018. pic.twitter.com/qTfnLzLlp4

— David Oyedepo Min. (@DavidOyedepoMin) December 7, 2018
Before now, the outspoken cleric had been bleak in his comments about the country and particularly critical of the current administration of President Mohammadu Buhari. Mr. Buhari – a moslem, did not impress the Bishop with his government's weak response as armed bandits – mostly moslems, slaughtered mainly Christian villagers and in some cases taking over their communities in the middle belt area of Nigeria. Relative calm has however returned to some of those communities.
But the Bishop's critics say he criticizes Buhari's government because he no longer enjoys the patronage of previous presidents. He was very close to former presidents' Olusegun Obasanjo and Goodluck Jonathan – both Christians.
In an outburst during an earlier sermon he preached on Thursday 6 December at the Shiloh 2018, Bishop Oyedepo tried to reply his critics, "I don't share any booty from any government. I have a clear conscience. I am dangerously wealthy. I am rich, whatever I want, comes. That's what they call wealth."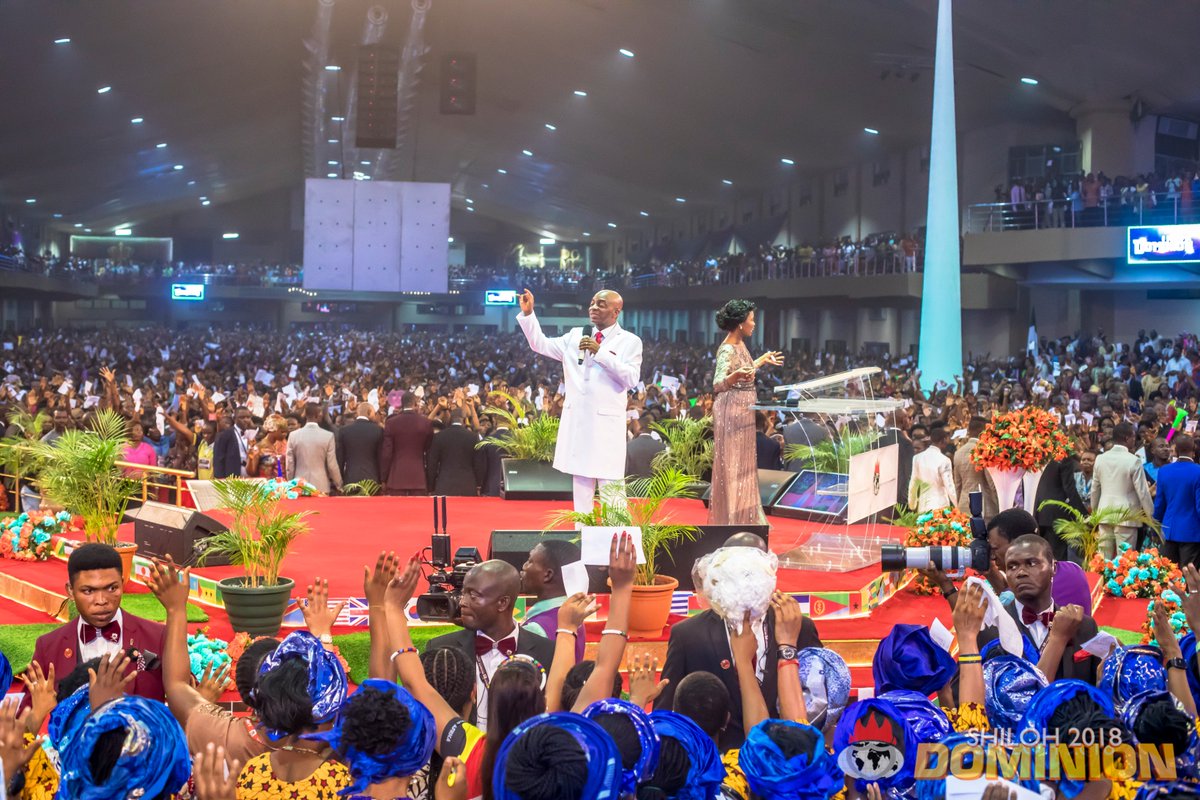 Then he warned 'political gladiators' to appreciate the profound influence of the church, boosting, "If the church says you are going nowhere, there is nothing you can do."
The Bishop was possibly making reference to Nigeria's political class as Nigeria heads for election next year in which President Buhari is seeking to secure a second term.
The "I am dangerously rich" remark itself caused additional ripples, attracting a rebuke from Reno Omokri, a US-based Nigerian pastor and a passionate public commentator. Pastor Omokri tweeted,
In the concluding part of his sermon on Saturday, Bishop Oyedepo advised Christians to understand that "The Spirit of Christ is the spirit of servant-hood. As you keep rising on the ladder of leadership, you must retain our spirit of servant-hood, constantly working to add value to others and be kingdom minded," he concluded.