The 300-level female student of Babcock University, Ilishan-Remo, Nigeria, who appeared on a leaked sex tape earlier in the week has been expelled from the school by the university authorities.
In a statement by the school which was signed by its Director of Communication and Marketing, Joshua Suleiman, the school called the incident a "sad commentary on the moral decadence" in the country and of "grave concern" to the institution. 
The statement clarified that the video was shot in April this year. It claimed the male partner in the escapade was a student who had been expelled from the school two months prior to the video for "various grievous misconduct" and was undergoing rehabilitation in an Abeokuta hospital at the time of the video recording.
"The boy in the video was expelled from Babcock University in February this year after investigation and due process proved that he was into certain grievous misconduct, the acts for which the university has zero-tolerance.
"His girlfriend in the same video, until the video broke out, was a third-year student of accounting of this university. After due process, she was expelled from the university for violation of our rules and regulations.
"The place where the immoral act took place, according to her written statement, was at St Bridget Hospital, Abeokuta, Ogun State, where the boy has been undergoing rehabilitation for different destructive addictions. According to the girl, the incident took place in April this year during school vacation when she visited the boy at the hospital. The act did not take place at Babcock University."
The leaked video which showed the two youngsters engaging in explicit sexual activity trended on the social media all through Wednesday 20 November, under the hashtag #Maikhalifa.
In the video, the male mostly backed the camera while the female who also engaged in oral sex looked gleefully into the camera suggesting consensual recording.
Unconfirmed narrative say the girl was visiting her boyfriend at the hospital where the incident took place. The recording was said to have been later shared by the male partner with his friends, one of who shared it with his own girlfriend, then the girlfriend shared it amongst a wider circle of her friends.
This latest ugly incident has once again reignited concerns about the worsening debasement of morals among Nigerian youths – in a supposedly very religious country, and debate about the risks and responsible use of digital tools and the unforgiving internet space.
Babcock University was founded in April 1999 by the Seventh-day Adventist Church of Nigeria and named after the American missionary, David C. Babcock.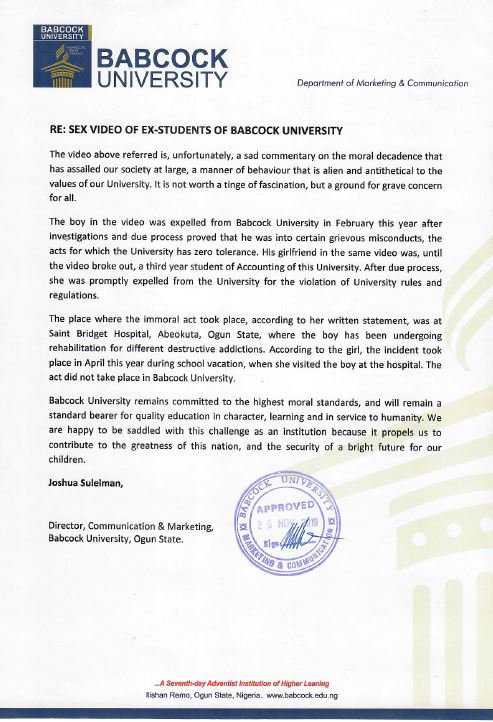 If you like this story, share, comment and 💙 our Facebook page.