The first edition of Nigeria's Official Hackathon, NaijaHacks, takes place this October. NaijaHacks is a technology invention competition born from a desire to equip the next-generation of Nigerians to become world-class innovators, makers, and disruptors. Speaking about why he started NaijaHacks, Uchi Uchibeke, Software Engineer at Shopify and former Engineer at IBM and the Royal Bank of Canada said "I started NaijaHacks because of the impact that participating in Hackathons at Stanford, Harvard, Princeton, and Waterloo had on me as a student. I want to use NaijaHacks to inspire a new generation of Nigerian innovators by creating a Hackathon that is exciting to attend, welcomes first-timers and enables them to compete globally". For Uchi, NaijaHacks is not only a Tech Invention competition. He describes it as an invention movement. A movement of makers. Of Leaders. Of Disruptors.
In 2018, NaijaHacks is using the latest technologies like Blockchain, Machine learning, IoT etc. to build solutions to some of Nigeria's challenges in Agriculture, Education, FinTech and MediaTech. Developers, students and everyone who's interested in tech were invited to apply. 500 applicants were selected to join the online contest and the top 100 teams will be invited to an expo-style demo day with a team of Judges, Speakers, and mentors from the UK, US, Canada, Singapore, and Nigeria.
This years program was sponsored and supported by global tech leaders like Linode, DigitalOcean, Twilio, JetBrains and Wolfram in addition to some of Nigeria's most innovative companies like Ingressive, BellaNaija, Lush Plans, IvoryMark, Printivo and nTel and other international STEM and Entertainment companies like  STEMHub Foundation, Major League Hacking, and Dabinchi Global Entertainment. With over 100 projects and more than 20 prizes sponsored by NaijaHacks partners, NaijaHacks is Nigeria's biggest tech invention competition. The award ceremony will be one of the highlights of NaijaHacks and the team with the fundable project will receive 1 million from NaijaHacks to further develop their solutions.
Many exciting projects are coming out of this years program. One of the teams is creating a solution to financially include the unbanked and underbanked people. Another team is building a social online platform to help connect entertainment investors to raw talents. And yet another team is developing a virtual reality (VR) app to enable immersive educational experiences.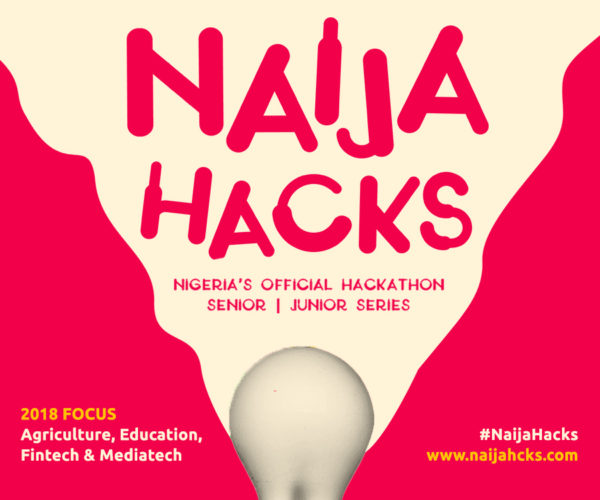 The scope of the 2018 NaijaHacks Hackathon is:
500+ Hackers.
7 Days: Online, demo day and award ceremony in Lagos, Nigeria
Diversity: Target of 50% women and a Junior category for first-timers
Judges, Speakers, and mentors from 5 countries
Millions of Naira in Prizes
Nigeria's biggest Hackathon
More information on our website or send us an email at info@naijahacks.com