The Nigerian National Petroleum Corporation, NNPC, on Friday 11 October reported it has successfully struck crude oil, gas and condensates in the Kolmani region bordering Gombe and Bauchi states of northern Nigeria.
Efforts to explore and drill oil in the Upper Benue Trough and Gongola Basin began in February in a colourful flag-off ceremony attended by President Muhammadu Buhari.
In a statement released by the Acting Group General Manager, Group Public Affairs Division, Mr. Samson Makoji, NNPC said it acquired 435.54km2 of 3D Seismic Data over Kolmani and drilled to a total depth of 13,701feet when it encountered oil and gas in several levels.
"On Thursday 10th October, 2019, at 18:02hours, one of the reservoirs was perforated and hydrocarbon started flowing to the well head at 21:20hours in which the gas component was flared to prevent air charge around the rig.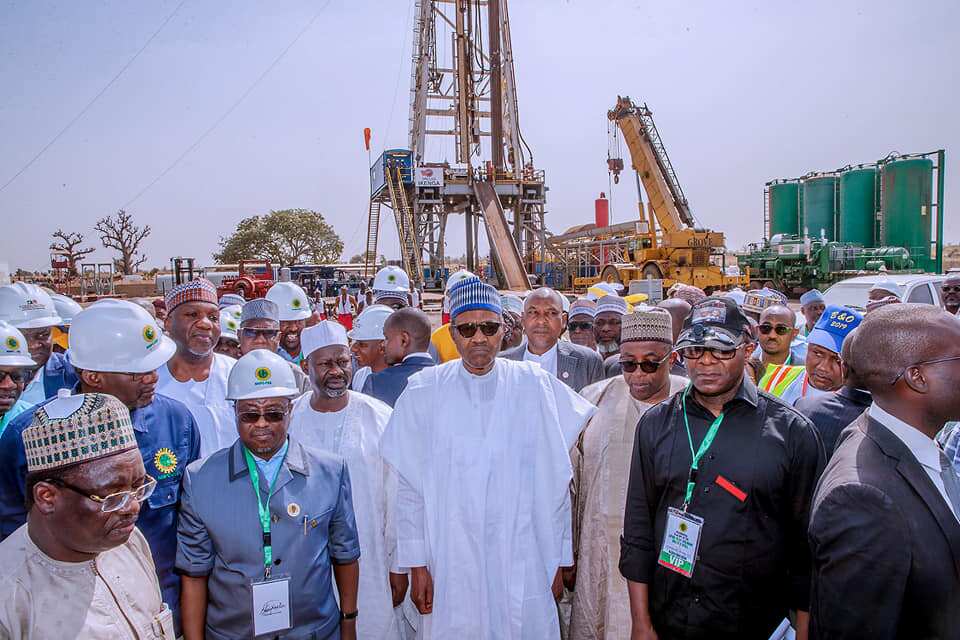 "Preliminary reports indicate the discovery consists of gas, condensate and light sweet oil".
The statement added that "Computation of hydrocarbon volume is on-going and will be announced in due course."
A tweet from the company's official handled announced "The gas component is currently being flared to avoid pressure build up around the drilling rig. Further assessment of the Hydrocarbon type and volume are being carried out."
There is strong belief that the entire Upper Benue Trough and Gongola Basin may be awash with huge oil and gas reserves and further exploration to determine its exact commercial quantity is being undertaken.
The flaring of the gas above in the Gongola Basin lights up the entrance of the north into the club of oil producing regions of Nigeria alongside the Niger-Delta and others.
This major breakthrough could potentially alter the dynamics of Nigeria's geopolitical foundations which was hinged on a marriage between what was thought to be a resource-poor but politically strong north and a resource-rich but politically subservient south.
Already the northeastern Nigeria has been home to severe hostilities and insurgency in the last decade and millions of her indigenous population had been displaced from their ancestral lands without compensation.