President Muhammadu Buhari, Grand Commander of the Federal Republic (GCFR) is 76 years today. He was born on 17 December 1942. Buhari is the 7th and 15th Nigerian Head of State, and the 6th civilian president.
He is a former military officer who led a military junta to overthrow the democratically elected president Shehu Shagari on 31 December 1983, but subsequently was overthrown and retired as a Major General in 1985. Buhari was elected president in 2015 after three failed attempts in 2003, 2007 and 2011. He is a Fulani from Daura, Katsina State – a  border community with Niger Republic.
Mr. Buhari was once married to Safinatu who he lost in 1988 and remarried to current first lady Aisha in 1989. Between both women he has 10 children, 8 of who are surviving.
As the president braces for tough political battle for his re-election bid in February next year, birthday greetings are pouring in from friends and foes across the political divide.
Former President Goodluck Jonathan in his goodwill message, said Buhari life has been "of great service to our dear nation, having served as a brave soldier, governor, minister of petroleum, head of state and now president".
General Ibrahim Babangida, who deposed him in the bloodless coup of 1985 described him as "an excellent role model" and credited him with "the survival of our country as an indivisible one nation albeit in the face of many daunting diversions".
Bose Mustapha, Secretary to the Government Federation taking up his greeting a notch sounded political, calling Buhari "the great leader" who is "leading the charge from the front despite grave distractions and gang ups".
His vice president, Prof Yemi Osinbajo alluded to his bosses "great sense of humour". He said Buhari "genuinely loves the Nigerian people" and that he was "privileged to call Boss".
Some people hold the view that President Buhari may well be in his 80's but that remains still in the realm of speculation.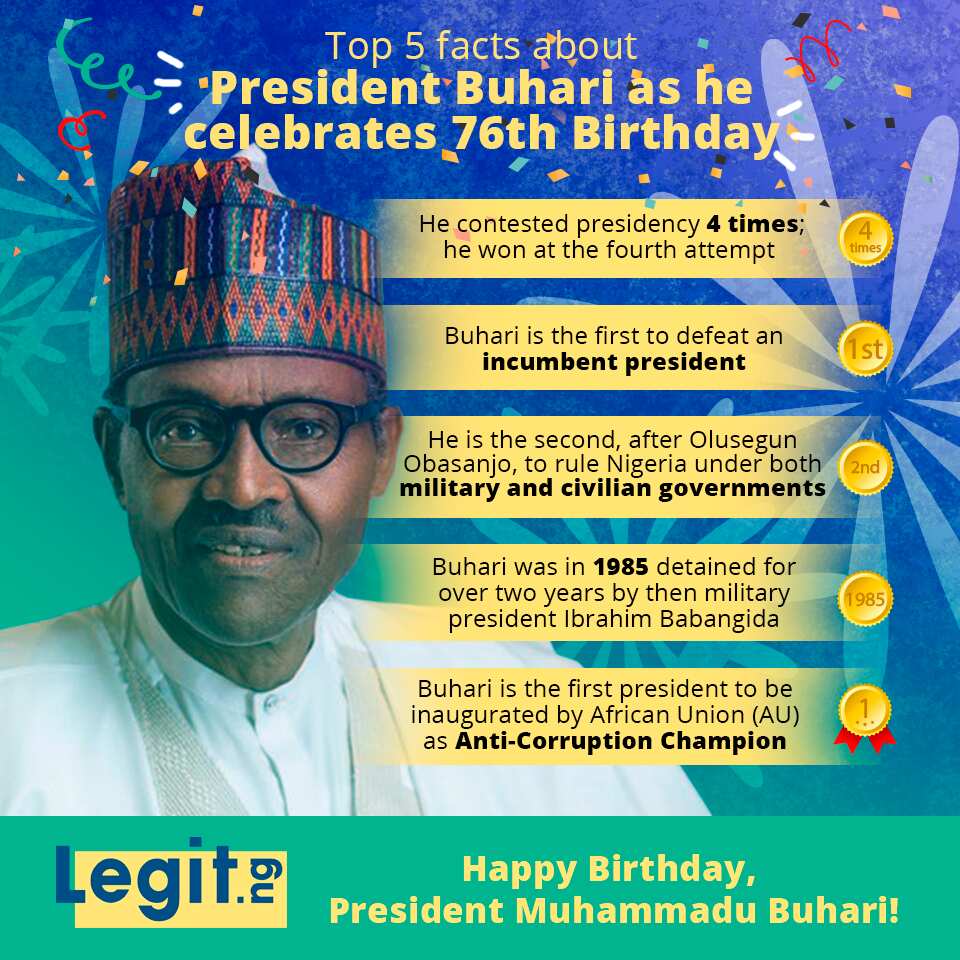 But during his chat with State House correspondents today, a reporter mistakenly reduced his age by one year provoking the president to protest jokingly, "Why would you reduce my age by one?''
The president called on Nigerians to continue to pray for him and the country at large, calling for continued support for his administration and its policies.
Happy birthday, once again, Mr. President. May you live long and well sir! pic.twitter.com/7lseQO2vjo

— Bashir Ahmad (@BashirAhmaad) December 17, 2018
At the Aso Villa (official residence of the president), the president's birthday was marked by a special songs that ushered the president into the forecourt where a Special Parade was mounted by the Guards Brigade. This was followed by a special performance by the silent drill squad of the Guards Brigade, which included the formation of words like PMB @ 76
Highlight of the event was the presentation of birthday cards to the celebrant.