Mrs Bianca Ojukwu, wife of the late Biafran hero, Dim Chukwuemeka Odumegwu Ojukwu, took to social media to remember her late husband on a '24th wedding anniversary' that would have been today.
In a heart-warming post on her Facebook page, she went down memory lane to remember her "superlative" wedding to Ojukwu, and a marriage that "survived against all odds".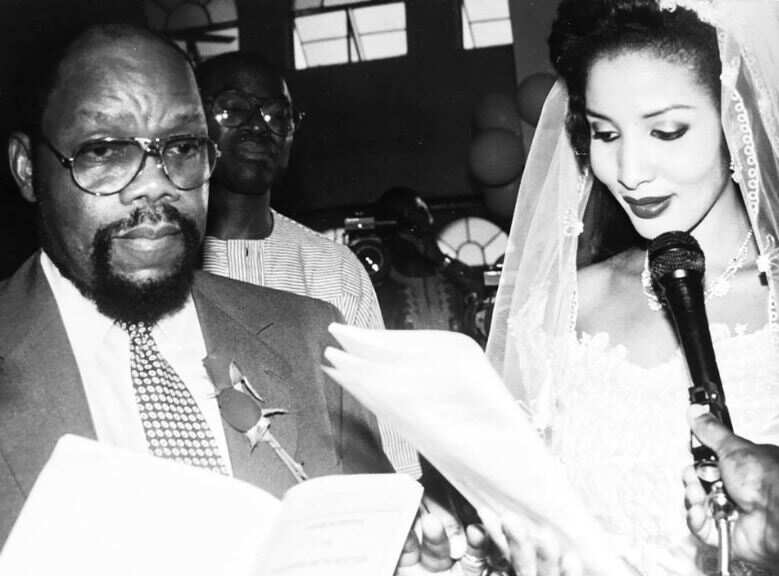 "On this special day", she wrote "though you are not here to remember with me, Dim Oma, (my good husband), Dim Chukwuemeka Odumegwu Ojukwu, I want to say THANK YOU….."
She described her marriage to Ojukwu as "a priceless privilege", and even called him "Nnam ukwu", an Igbo word that can be translated to mean "my lord".
The Ojukwu's had three children – two sons and a daughter.
Bianca, a former beauty queen married Ojukwu, 30 years older, in 1994, in a marriage that was as sensational as it was controversial. Ojukwu – the Ikemba of Nnewi, died in 2011. In his Will, he left most of his assets to his wife which generated a degree of disaffection from some family members.
Although Bianca is a lawyer and holds a master's degree in international relations and diplomacy, her meteoric political rise is perhaps attributable to her marriage to the ex-Biafran warlord, becoming in 2011 the Senior Special Assistant on Diaspora Affairs to then president Goodluck Jonathan, and in 2012, Nigeria's ambassador to Spain.
She is a member of the Board of Trustees (BoT) of the All Progressives Grand Alliance, a political party founded by her late husband. But on October 4 this year, she suffered a major political setback when, as she claimed, she was schemed out of the party ticket to contest for the Anambra South senatorial district in the 2019 elections by party chieftains.
Mrs Ojukwu, estranged from her husband's family and embattled in her APGA political party, may have been reminiscing of the romance and the good old days with her once larger-than-life husband, and by her post, could be sending a reminder to all who cared to listen, of her hallowed place in the history of the Igbo nation and Nigeria in general.
ONCE UPON A TIME….MY WEDDING ANNIVERSARY
And it was indeed my fairytale. That's me in the celestial white wedding dress carrying a bouquet made up of 24 of the most beautiful red roses I have ever seen. They were specially flown in from Jos that misty morning….12th November 1994.
Today would have been our 24th wedding anniversary, though we had been together since 1989. It was a marriage which occurred and survived against all odds.
The wedding ceremony was nothing short of superlative and took place at Our Lady Queen Of Nigeria Catholic Church Abuja while the wedding reception, the very first ever to be held at the Hilton, Abuja was a compendium of who is who, and a memorable extravaganza.
The pre Wedding Party took place at the exotic Jabi Lake resort and had Afro juju sensation Sir Shina Peters on the bandstand……we jammed all night!
so many years ago, and it feels just like yesterday…
On this special day, though you are not here to remember with me, Dim Oma, Dim Chukwuemeka Odumegwu Ojukwu, I want to say THANK YOU…..
THANK YOU, Beloved, for 21 years of immeasurable happiness;
THANK YOU, Nnam Ukwu , for the priceless privilege of being your spouse, your Queen, and most of all,
THANK YOU , for being such a great father to our wonderful children.
Till we meet to part no more, May God continue to shower you with peace and joy in His paradise where All is perfect.
Happy Anniversary, My Dearest….