The king of the Yorubas, Oba Adeyeye Enitan Ogunmusi, the Ooni of Ife, is getting married to his third wife.
The new bride, Miss Naomi Oluwaseyi is 25, and lives in Akure, Ondo State. She is the founder of the evangelical church EN-HERALDS situate in Akure.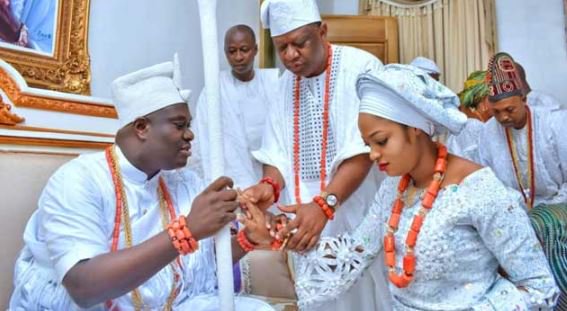 In a tweet via an unverified twitter handle, @OoniAdimulaIfe, believed to be that of the king, the Ooni had twitted his excitement,
It is the beginning of your wisdom on this throne of Oduduwa. You are welcome home my beautiful and adorable queen.#OoniOfIfe #Otisese pic.twitter.com/0zOCRYMaKX

— Ooni Enitan Ogunwusi (@OoniAdimulaIfe) October 18, 2018
The king had married severally before, the last of which was to Queen Olori Wuraola, who he divorced merely 17 months after marriage, amid allegations and counter allegations of domestic violence and infidelity.
No formal announcement of additional wedding events have been announced, but speculations are rife about the Oba's choice of a Christian evangelist wife, into a deeply cultural institution steeped in traditional rites and rituals.
One social media user had questioned,
God you are great. My first encounter with the new wife Ooni of Ife was in 2016 at Sunview Hotel in Akure, the State Capital. At the meeting, she addressed few journalists about her crusade programme in the state. My question is this, can an Evangelist marry an Idol Worshiper? pic.twitter.com/ILtFrqF3KS

— Leke Akeredolu (@Lekebiz324) October 19, 2018
The Yorubas, a great cultural civilization of about 40 million people, lives mostly in the western flank of Nigeria.
We will update this page, as developments unfold. We offer the revered king our best wishes.